How to wear a money belt? Many people have asked themselves this very question before stepping foot outside their doors to do a money belt test run. They later inevitably experience a moment of existential terror when they realize they need to reach beneath their shirt to pay for that round of beers inside a packed bar.
This visceral fear that pulsates down through the loins often leads to a moment of abject social failure that forever lingers in the minds of all those present.
However, this moment will never happen to you if you know how and when to wear a money belt.
I've been proudly sporting the money belt for five years now without a hitch (at least none that I'm aware of).
The Unspoken Rules for Wearing a Money Belt
I'm going to share with you the best money belt tips you'll ever read in your life, mainly because there aren't a lot of them out there.
Rule #1 – You must invest in a slim money belt #ad. The whole point of a money belt is to hide your stuff. No one is supposed to know you're wearing a money belt.
Rule #2 – Never, ever confuse a money belt with a fanny pack. I love the money belt and the fanny pack, but I never put these two items in the same sentence (even though I just did) because they're apples to oranges.
Rule #3 – Never, ever wear a money belt on a first date unless your confidence is in a healthy and verified place, not that type of blithe confidence that we men often have.
Rule #4 – If you wear a money belt, you have to compensate for the style flaw with the rest of your wardrobe. Picture this, a balding middle-aged man with a struggling man bun wearing a Hawaiian shirt, Greg Norman hat, and Tevas walks into a bar only to reach beneath his shirt to pull out money from his money belt. This is risky human activity.
Rule #5 – The more in shape you are the easier it is to pull off a money belt.
How to Wear a Money Belt the Right Way
I've been traveling nonstop internationally for five years now, and I consider the money belt a top item in my anti-theft gear collection.
My money belt only comes out when it's mandatory. You can't fall in love with your money belt and get too comfortable wearing it.
Fanny packs are for daily use, and the art of wearing a fanny pack is a completely different art, just ask Matthew McConaughey or The Rock.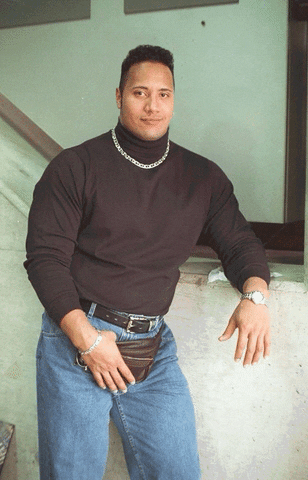 Here's when and why I use a money belt:
While traveling through the airport, I wear a money belt to hold my cash, phone, passport, and credit/debit cards. I love to drink beer on flight days and tend to shuffle things around when I get a buzz going. The money belt keeps my most valuable possessions stowed away while my mind enjoys life.
The first day I arrive in a new country, I sometimes wear my money belt depending on how safe my surroundings are. For example, when I land in Taiwan, I'm not wearing a money belt. The first time I traveled to Santo Domingo, I was all about the money belt.
Whenever I need my passport outside, I wear my money belt. This could be a trip to extend my visa or another circumstance where I need my passport.
When I go to the ATM, I wear my money belt or slim fanny pack #ad.
If you're staying in a hostel, you may want to use a money belt more often than someone who's renting an Airbnb or a hotel room with a safe.
Tip: When you're wearing your money belt in public, put some cash or a single credit card in your pocket to avoid having to awkwardly reach beneath your shirt to pay for something.
You Have to Be Confident
In reality, you shouldn't care what other people think about you, especially when you're traveling and don't know anyone around you.
Safety comes first.
I don't care about a style flaw when it comes to securing my most valuable possessions and not having to worry about them while I'm enjoying airport beers.
Confidence drowns out all that noise.
If you follow the unspoken rules and tips I wrote above, you won't run into any problems. Plus, you'll get that invaluable peace of mind of knowing your stuff is safe while in transit.
I'll tell you a quick story I've mentioned here before. I met a guy in Ho Chi Minh City who had just been robbed by two locals on a motorcycle.
He had put everything including his passport in his backpack that they stole right off his back.
If he had been wearing a money belt, he would have saved his passport, money, credit cards, and wallet. I ended up giving him some money because I could see the distress in his eyes.
The Best Money Belt for International and European Travel
I have an article dedicated to the best money belt you can check out by clicking the link, or you can go straight to it at Amazon by clicking here #ad.


It's the exact type of money belt I've been using the past couple of years, and I like it a lot.
It has RFID-blocking material for extra security, reliable zippers, a buckle at the front of the bag for added security, and it's slim yet there's more than enough room to hold everything I need.
I will admit that I've worn it on the outside of my shirt several times, but only inside the airport for the sake of convenience.
There's also a second option that has a mesh back panel pocket, which I'm a fan of. Click here #ad to check that one out.
The third option is not technically a money belt, but I've been using it as a fanny pack/money belt hybrid because it's stylish and paper-thin. Click here #ad to view it at Amazon; I had to do some digging to find it.
Final Word
Now you know exactly how to wear a money belt. There will always be people who were meant to wear a money belt and those people who weren't.
Once you give it try, you'll know who you are.
I happen to fall into the category of money belt wearers, and every time I meet a member of the society, we have a nice chat about why we love ours.